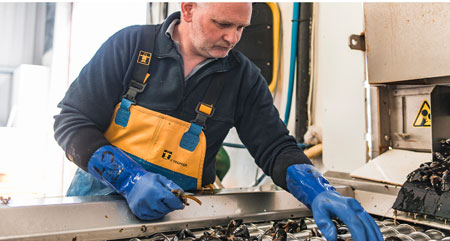 TOXINS are naturally occurring phenomena found in shellfish; especially during the summer months.
The toxins accumulate in shellfish after the shellfish ingest plankton called dinoflagellate – occasionally seen as a red tide or referred to as an algal bloom.  As the bloom moves away the toxin naturally leaves the mussels, it does not harm the mussels themselves.  The most common toxin in Shetland is DSP. Other toxins are ASP and PSP, but these are not so common in Shetland waters.
TESTING for toxins are carried out on a variety of monitoring points around our farm sites.  Samples are gathered by representatives from the Food Standards Agency and are sent to the FSA laboratory for biological analysis.
You can check the Food Standards Agency's results at:  http://www.food.gov.uk/foodindustry/farmingfood/shellfish/algaltoxin/
However, our customers can also be assured that we are following due diligence procedures, and have our own toxin testing regime running parallel to the FSA's testing program.
We monitor the weekly results for toxins very carefully. The first priority always being the safety of our customers and the final consumer.
YOU – Our first priority is to ensure that you are supplied with a quality safe to eat product and that 'at risk product' does not reach the public.  Despite our closed period, there is a possibility that our sites may be subject to closure at other times, which could interrupt our supply to you.  However, we always strive to minimise that risk.
Please contact us direct if you have any questions or concerns about toxins, testing or how it affects you.